Roaming Outdoors
Non Photo-Objective. Photographers from Belarus documenting the protests.
The selection below features the works of three Belarusian photographers: Yauhen Attsetski, Carolina Paliakowa, and Violetta Savchitz. All of them live now outside Belarus. Being a man or a woman with a camera in Lukashenko's Ukraine in 2021 is dangerous. 
When the mass protests began in Belarus in August 2020, thousands of Belarusians—who in most cases had never participated in any public political activity before—took to the streets to voice their disagreement with the result of so-called "Presidential elections" (which Lukashenko won for the sixth time in a row), as well as to protest against the enormous level of violence from the riot police, army, and the government in general. These demonstrations took place from 9–11 of August, following which thousands of people were imprisoned, beaten, and tortured in isolation. 
The peculiarity of the Belarusian protests is connected to their cyclicity and repetitiousness. Every Sunday we had a weekly Sunday March; Saturday become a day for female rallies; and on Mondays pensioners, together with students from Belarusian Universities and Academies, organised their column. There were performances from opera singers and musicians, rallies with medical doctors and sportsmen, as well as actions from artists and teachers within the so-called "yard marches" and "yard meetings," when people just gathered together every evening to drink tea, listen to poems from Belarusian poets or songs from the musicians, and decorated their living areas with the white, red, and white ribbons and other Belarusian symbols. 
What happened then—we all know. According to information from the Human Right Center "Viasna" for October 5, 2021, 722 people were recognised as political prisoners in Belarus. Among them a seventeen-year-old young man, students between the ages nineteen and twenty-four, political leaders, representatives from striking committees of workers, and cultural intelligentsia. 
The protests from 2020–21—the largest peaceful protest in the history of Belarus—revealed, beside civil phenomena, the yearning of individual bodies to join a collective body, sharing the same emotions, values, and movements during the marches. It's vital to mention that for the last twenty-six years, which is to say since Lukashenko came to power, Belarus remained a politically and publicly disinfected place. The idea of a public sphere was just inexistent in this context. The Belarusian people have never treated the public spaces as belonging to them. Sometimes it was a comic situation, when you would come with friends to a public park in the center of Minsk to have a picnic on the grass and suddenly two or three men would appear and tell you that it's forbidden. Our bodies, our values, our desires, and our rights to express anything publicly were forbidden for a long time. 
When, after the first mass peaceful marches, people suddenly came to the streets and recognised that they still had the capacity to smile, laugh, love, walk, run, cry, shout, whisper dance, sing, and present publicly—it was like a rebirth, the return of all the hidden life that we tried to build and preserve marginally (creating our own spaces beyond the dead mausoleums of the Belarusian authorities)—all of these suddenly and quickly become a part of public space. 
One of the most popular slogans used during the rallies in Minsk was "This is our city!" Evidently, that slogan has an interesting connection with the history of the Belarusian avant-garde, when the decoration of soviet cities by avant-garde artists resulted in the appropriation of public places by art.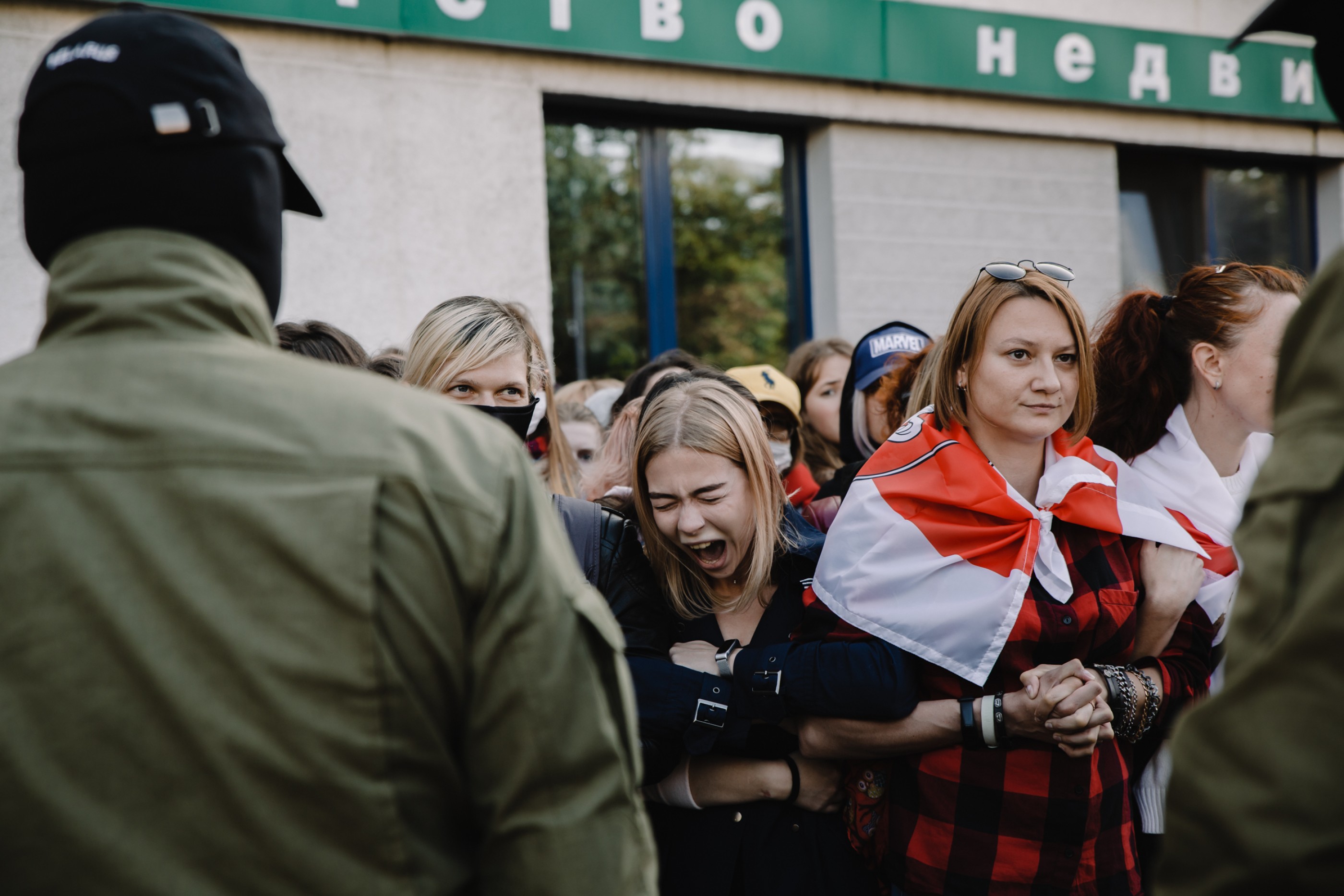 © Violetta Savchitz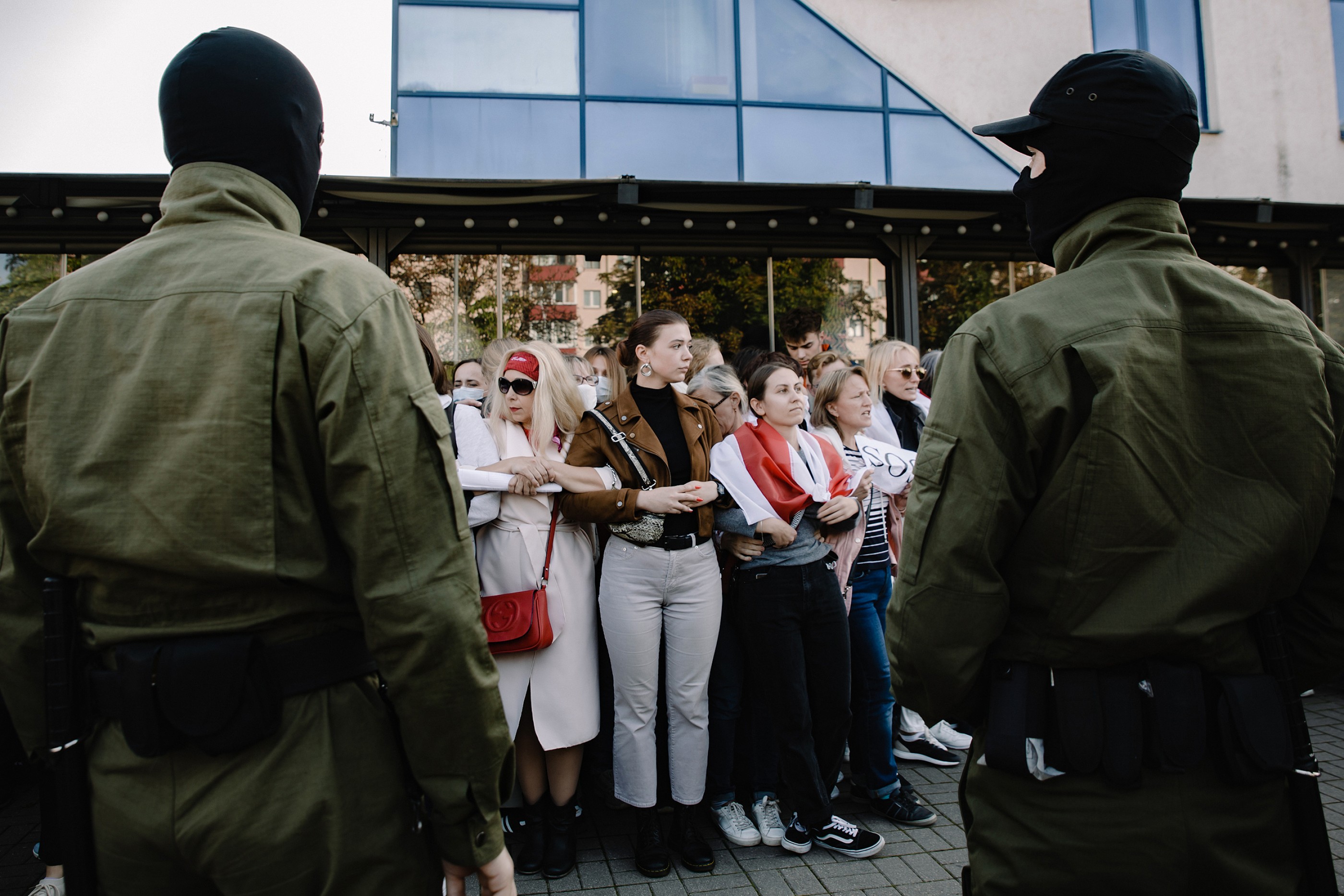 © Violetta Savchitz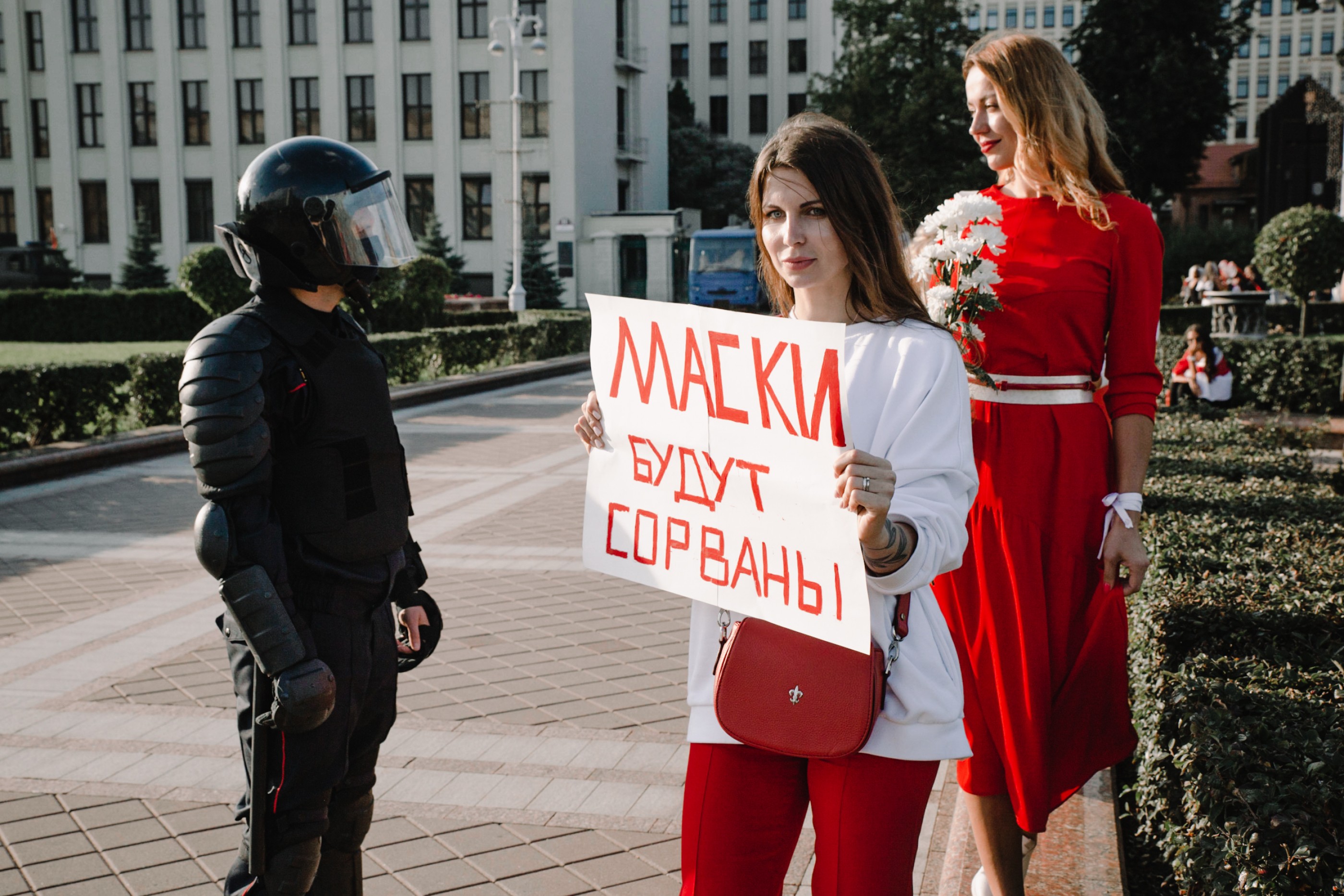 © Violetta Savchitz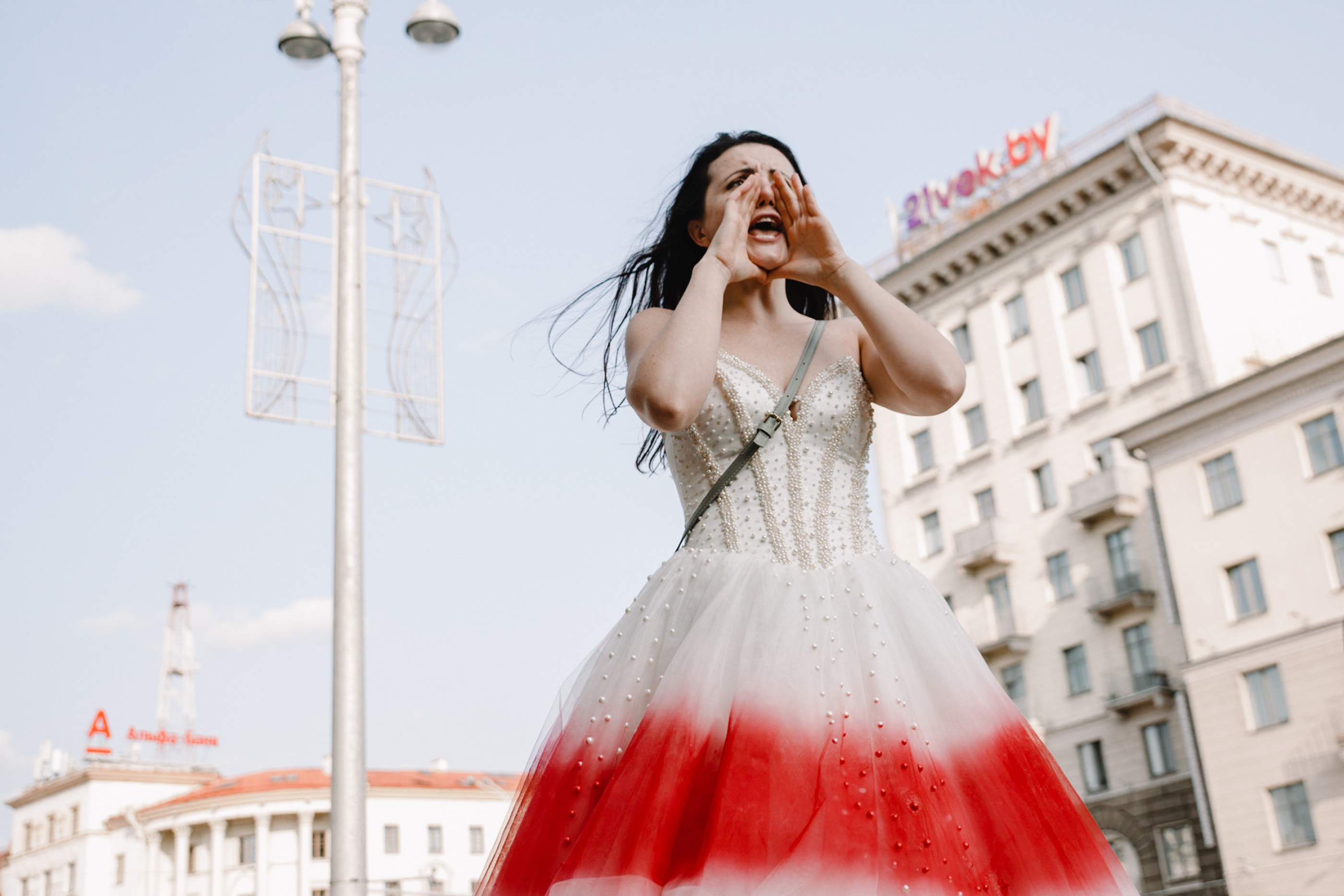 © Violetta Savchitz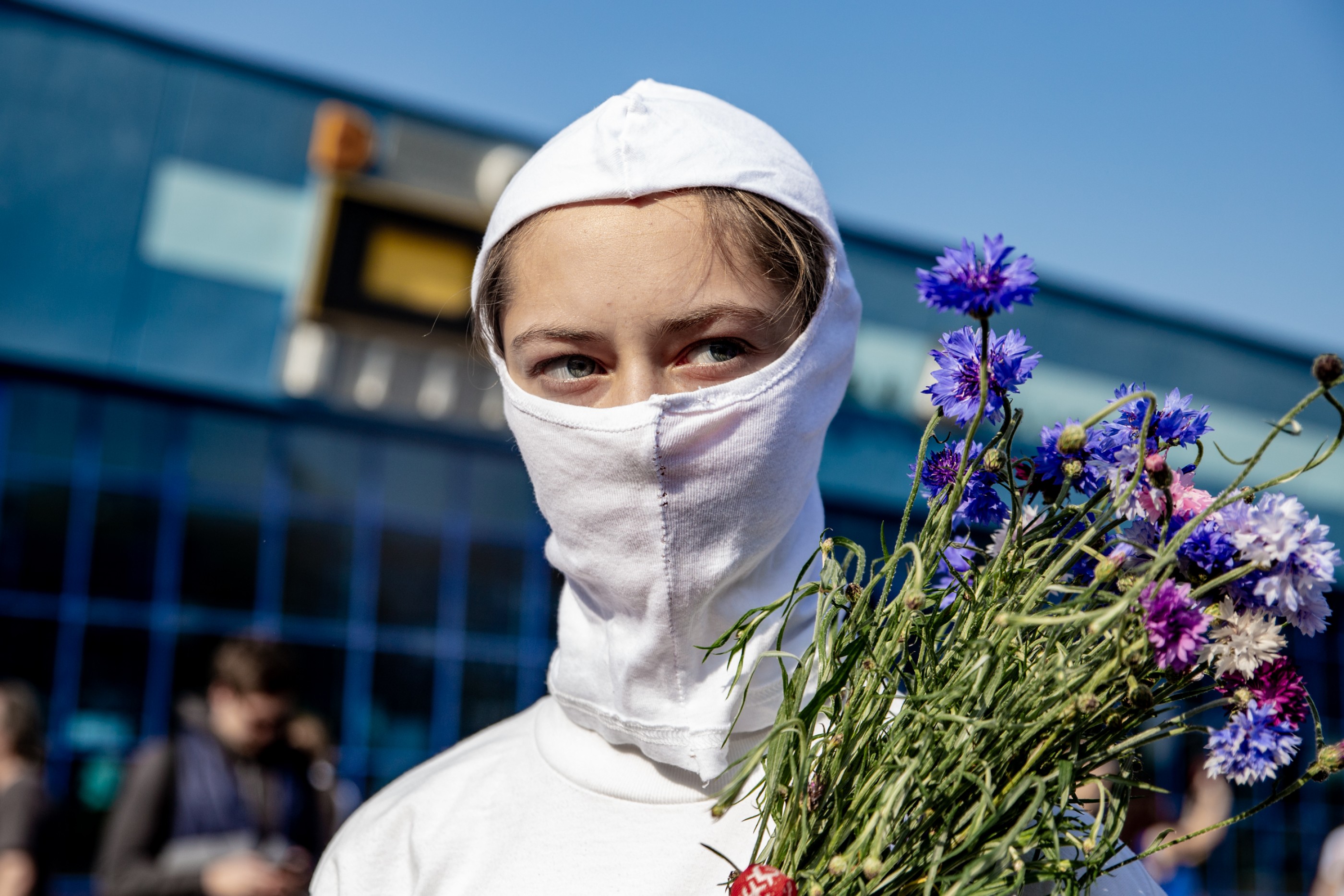 © Violetta Savchitz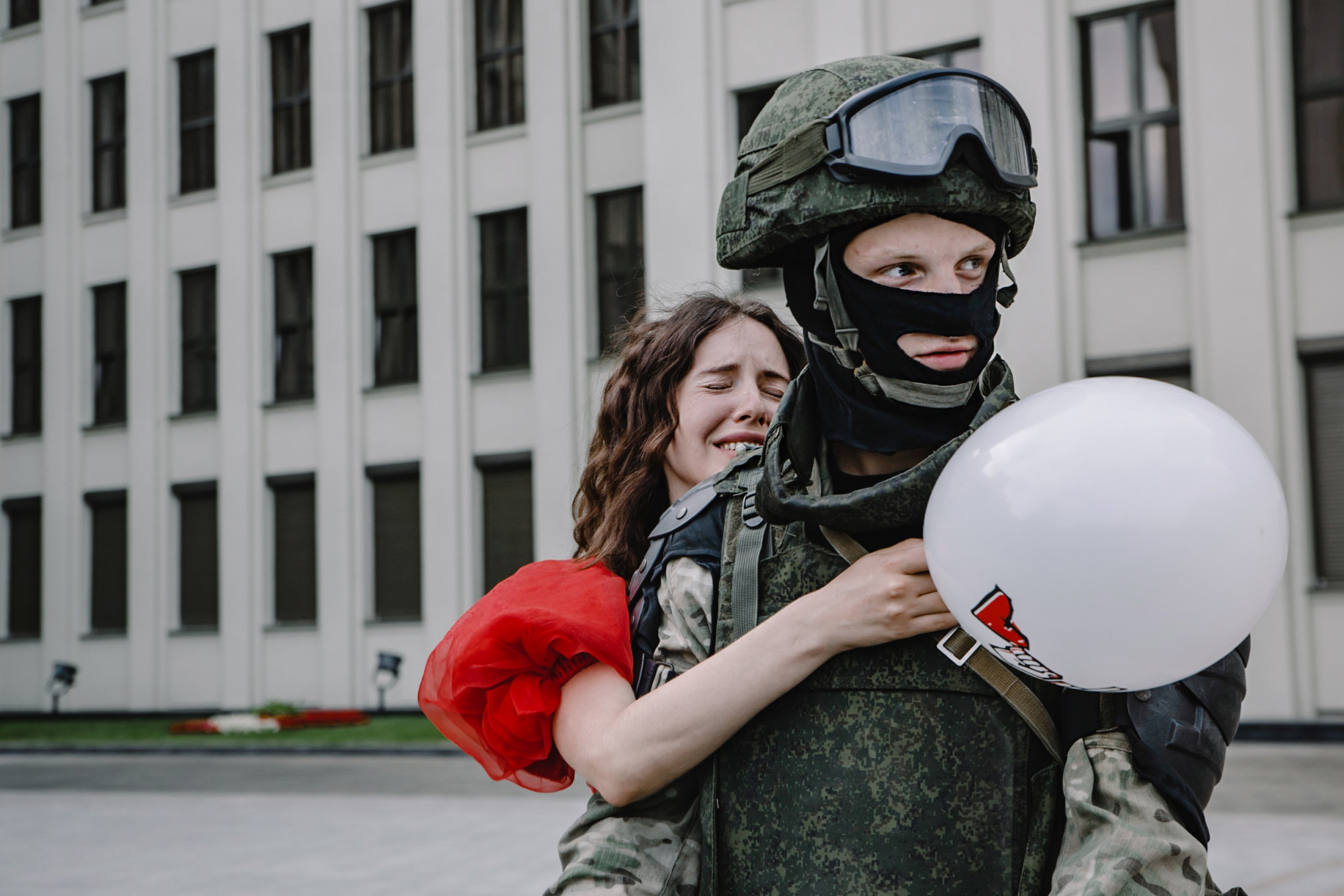 © Violetta Savchitz
In the series from Violetta Savchitz we see a selection from the mostly female marches and actions. One of the most important was the first action, the day after the "black night" of violence from riot police—from which we have all seen photos of men and women violently beaten, kidnapped from their cars, and tortured. Following this, dozens of women in white clothes holding flowers came to one of the central places in Minsk and silently stayed there for some time, then left all the flowers on the ground and departed. 
Violetta Savchits was among those who documented practically all the female peaceful protests. Here you can see recognisable and bright heroes of that movement: Maria Kolesnikova and Nina Baginskaya. Maria has now been in a KGB prison for more than a year. She was sentenced to eleven years in prison.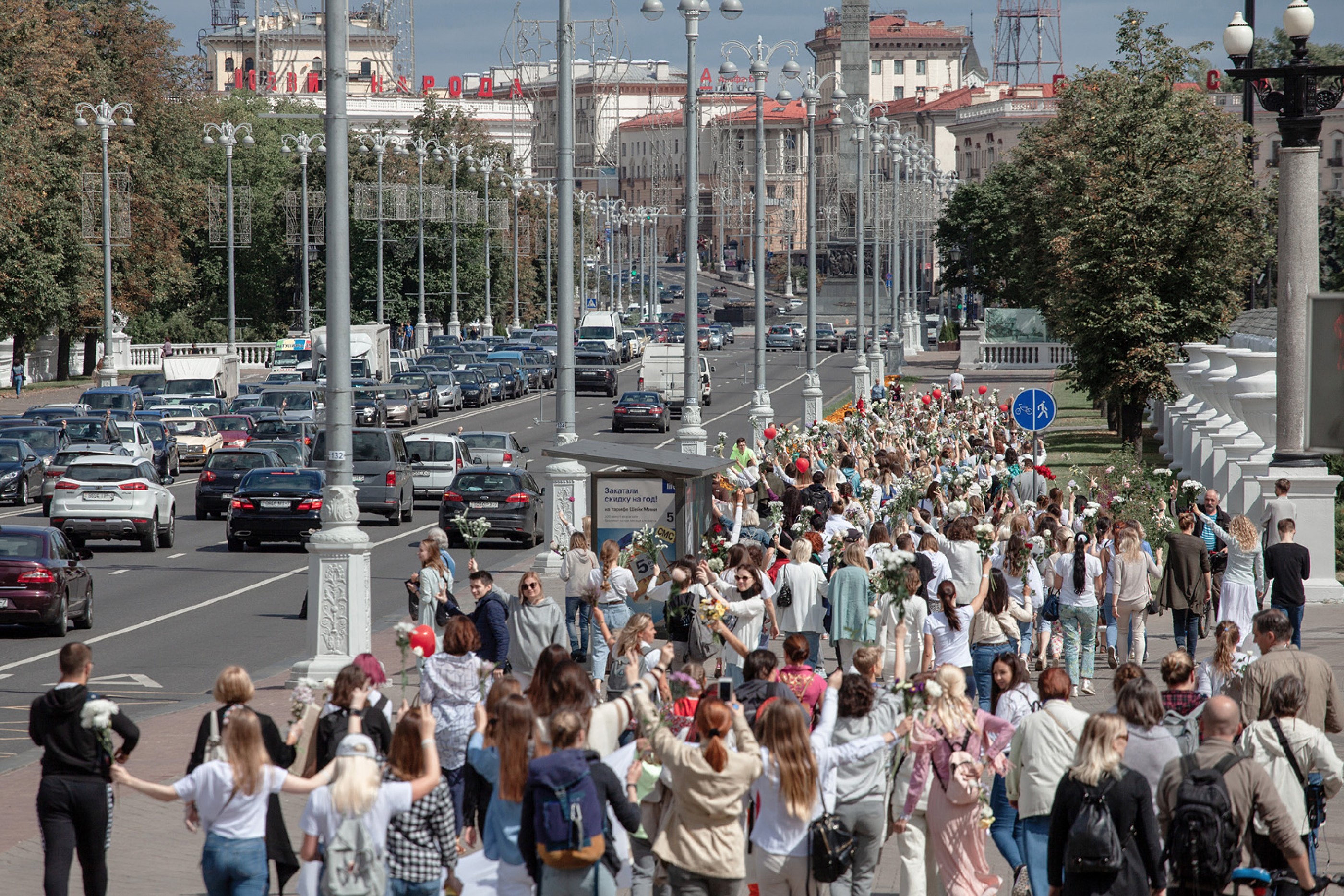 © Yauhen Attsetski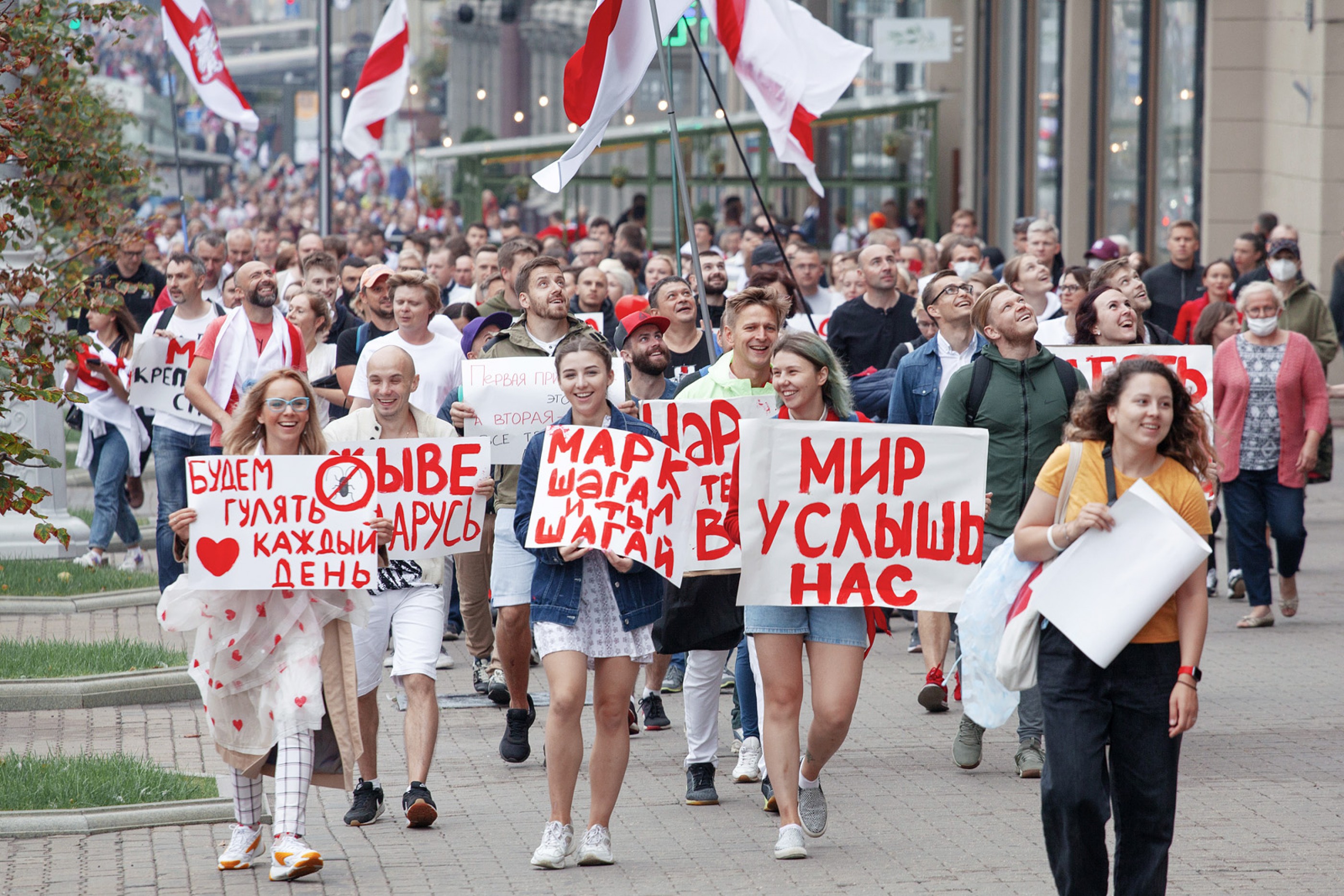 © Yauhen Attsetski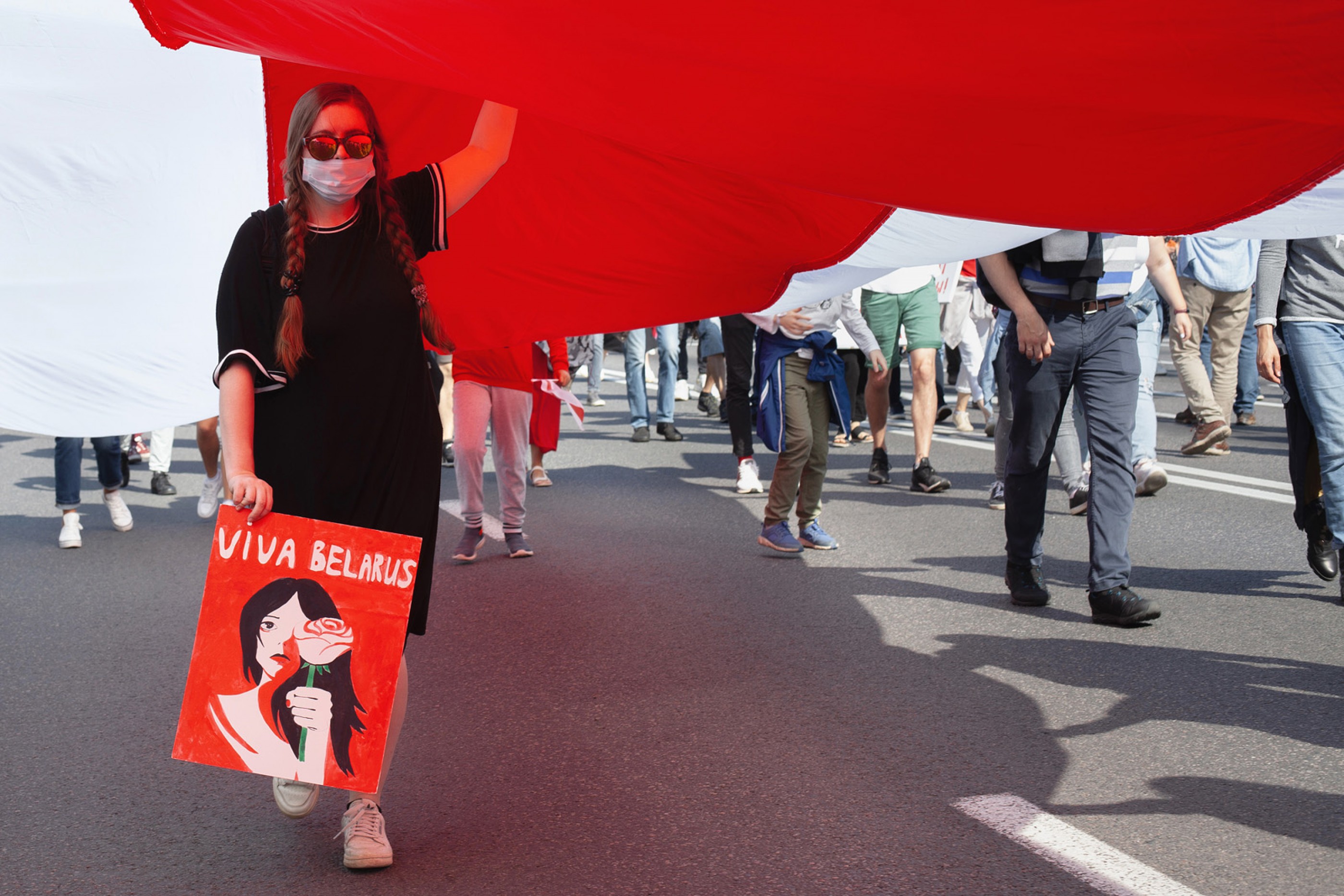 © Yauhen Attsetski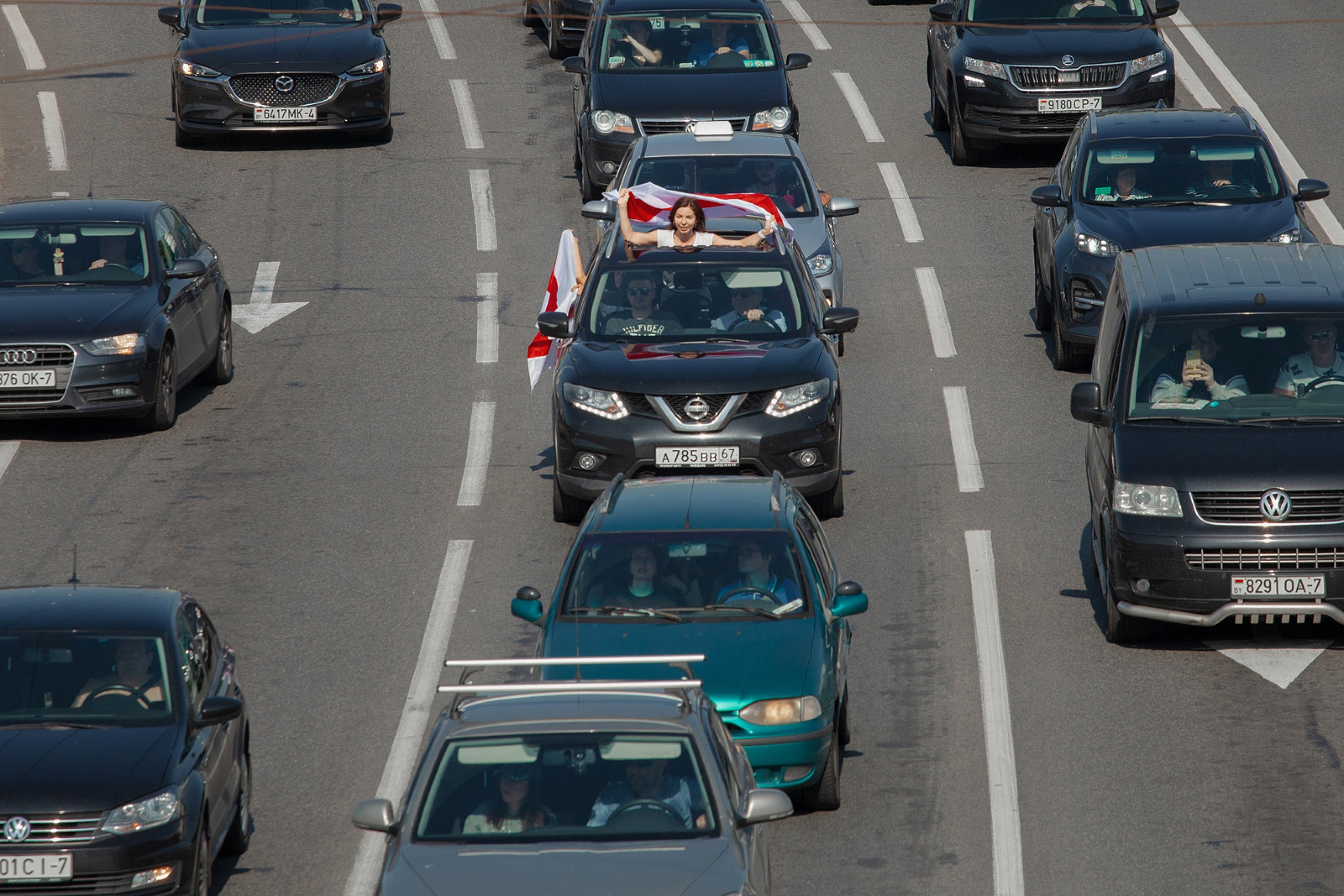 © Yauhen Attsetski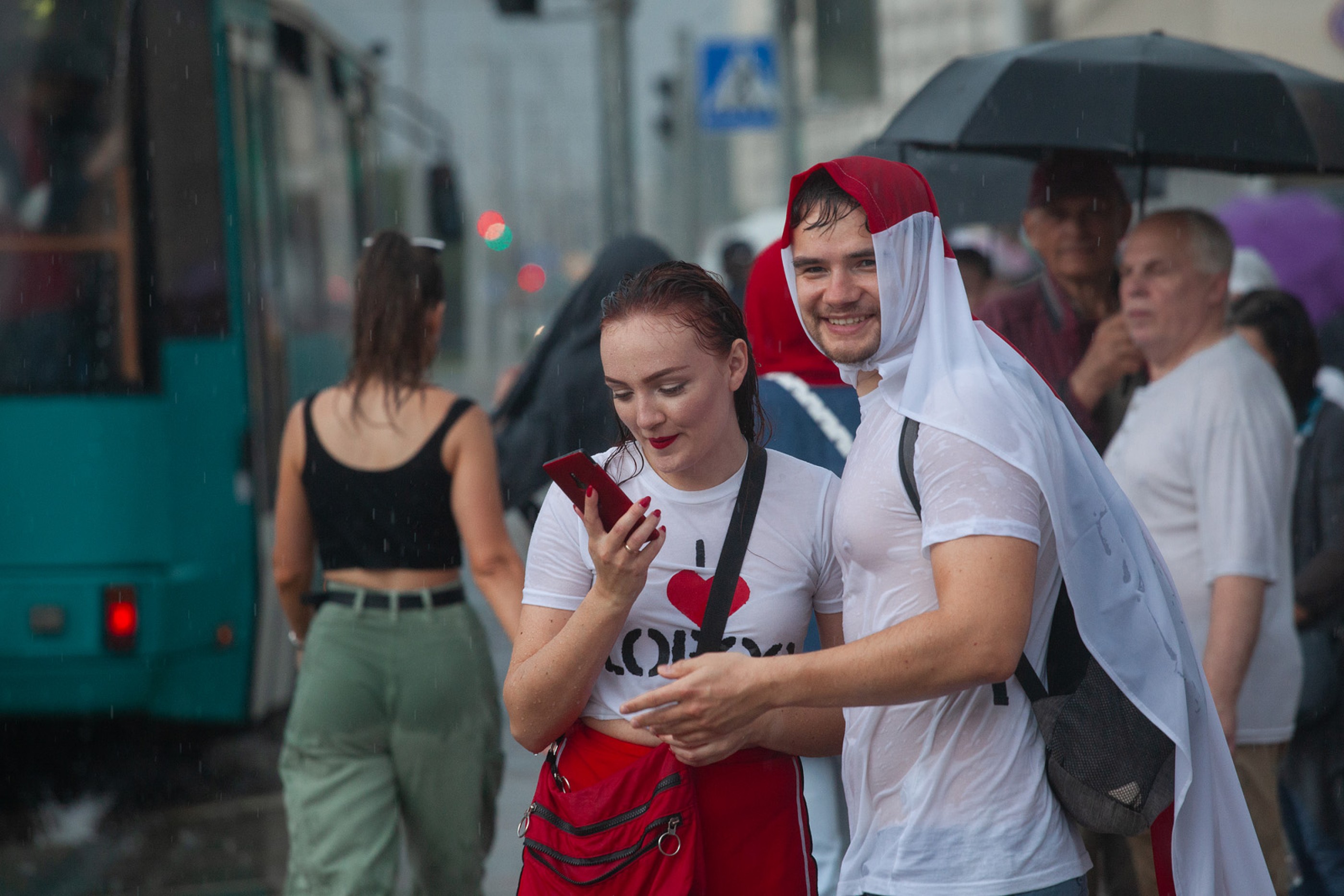 © Yauhen Attsetski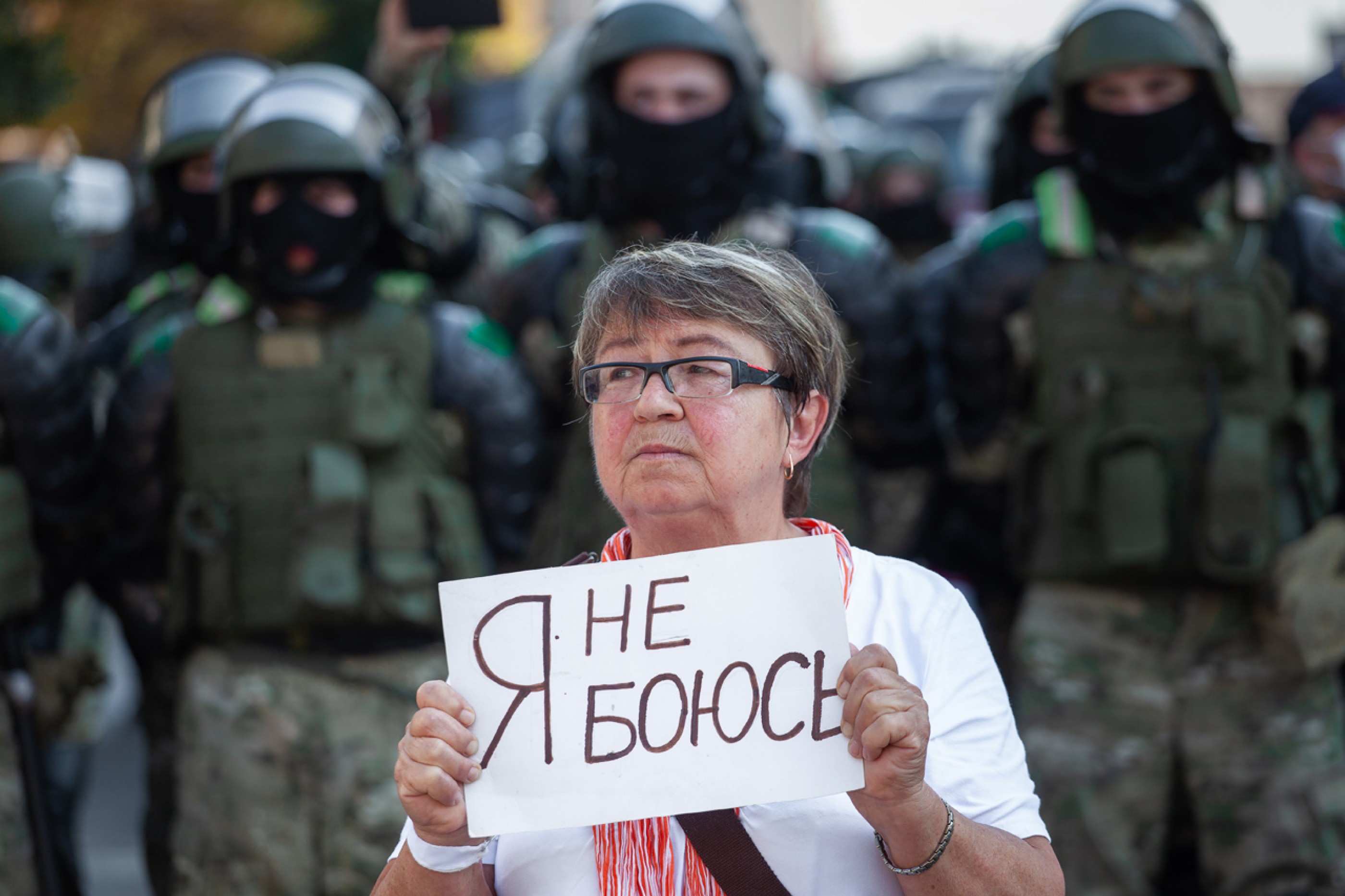 © Yauhen Attsetski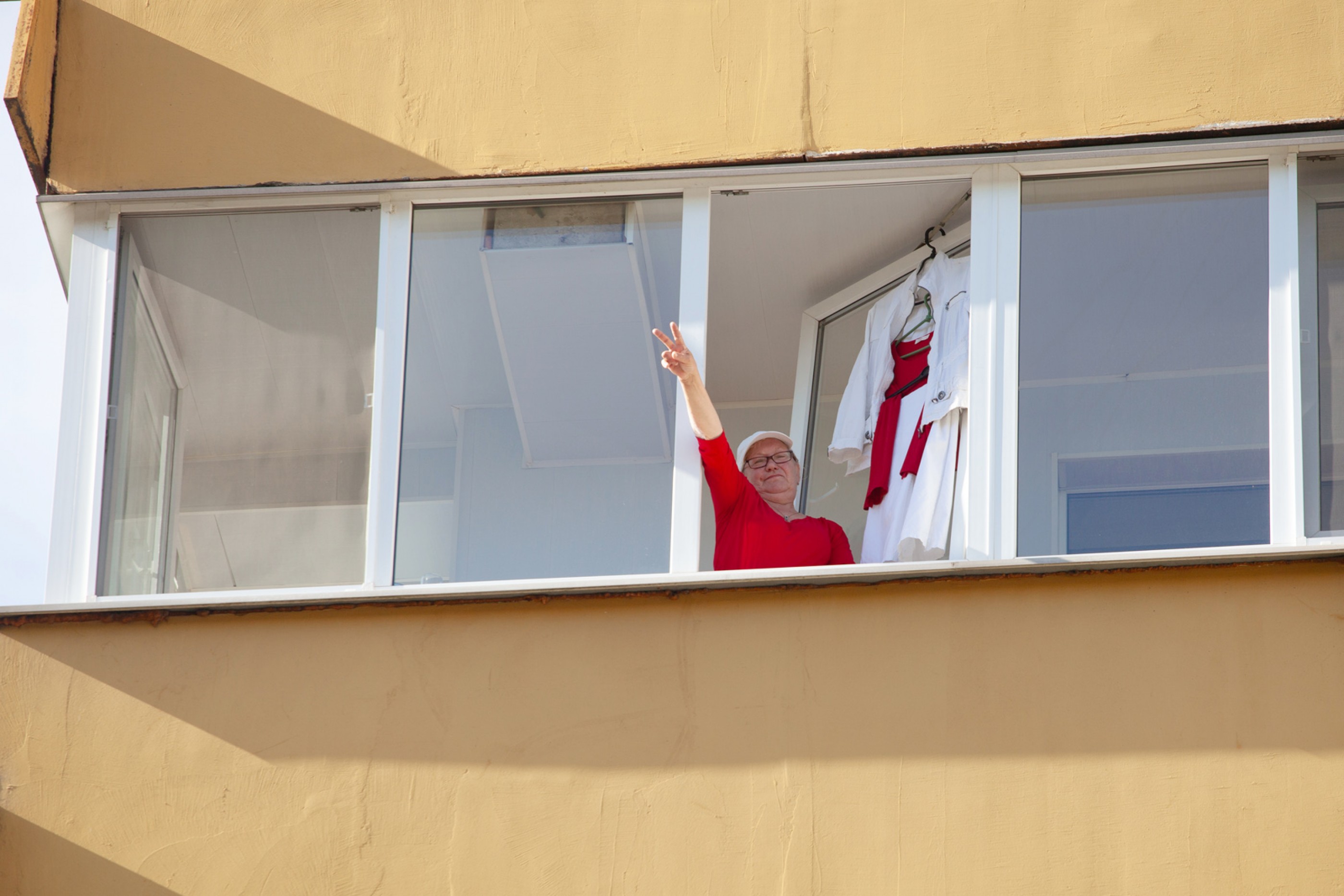 © Yauhen Attsetski 
The selection from Yauhen Attsetski represents the creative potential of Belarusian protesters, who invented a new form of art for Belarusian discourse—the political posters prepared and invented for every Sunday protest. 
Carolina Poliakowa, meanwhile, documented the very important starting point of the presidential election campaign. In her selection you can see (presidential candidate and opposition leader) Sviatlana Tsikhanouskaya holding meetings with voters in June and July 2020. She was forced to leave Belarus and is now based in Lithuania as a leader of democratic Belarus. 
Sociologists usually paint an average portrait of protesters. It remains hard to say what kind of portrait the average Belarusian protester is, however. One can not make a generational reduction, because during the protests you can easily meet fifteen-year-olds alongside eighty-two-year-olds. Grannies and millennials under the same flag, demanding true new elections and freedom for Belarus without dictatorship. What is the average body of the Belarusian protestor? Female, male, transgender? Is it the body of a worker, a teacher, a politician, an artist, a philosopher, a minor, a taxi driver? 
"This is our city!" we chanted while marching—and this is our common body, which, after twenty-six years of imprisonment, is finally becoming free to move in public space.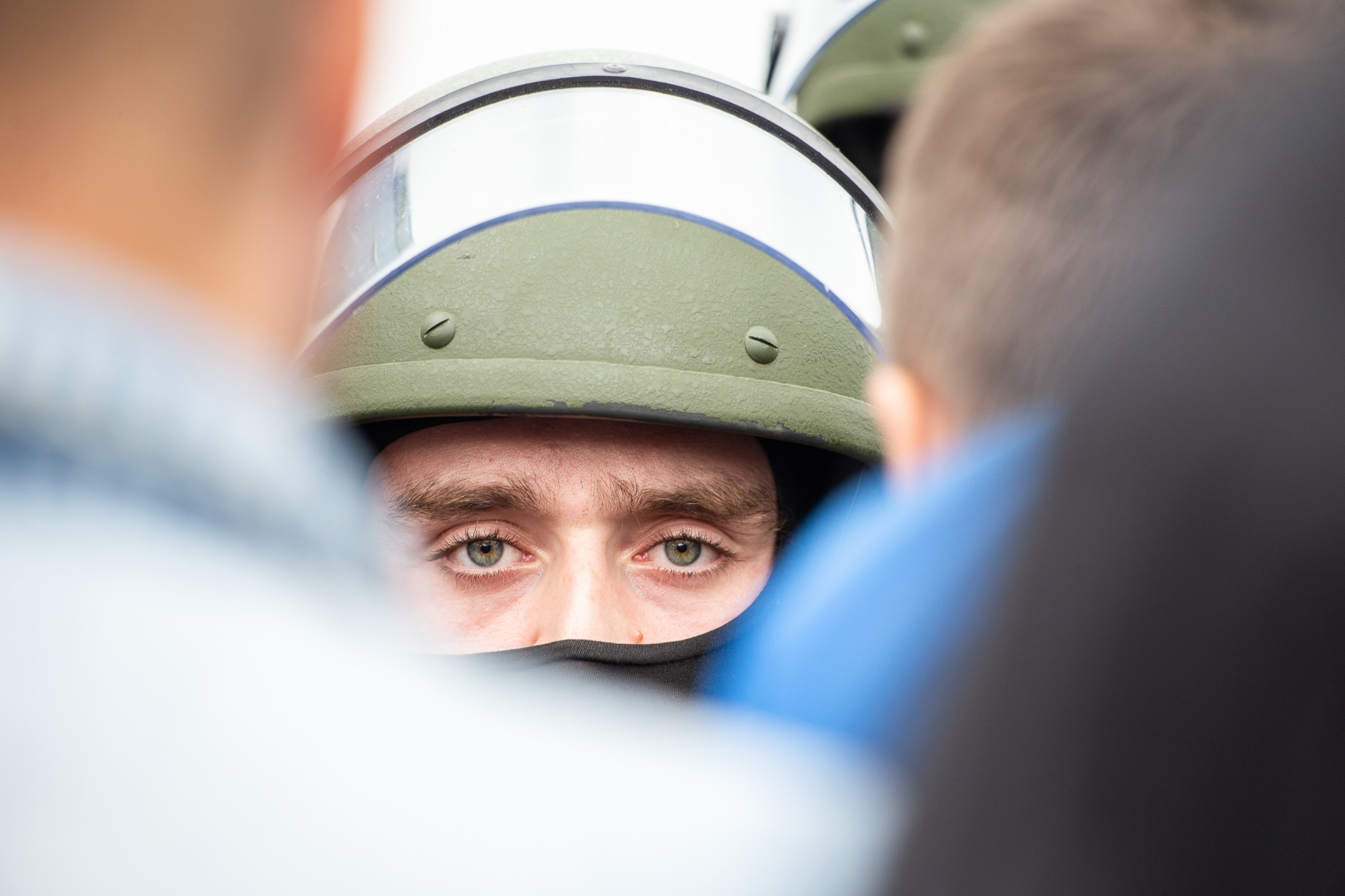 © Carolina Poliakowa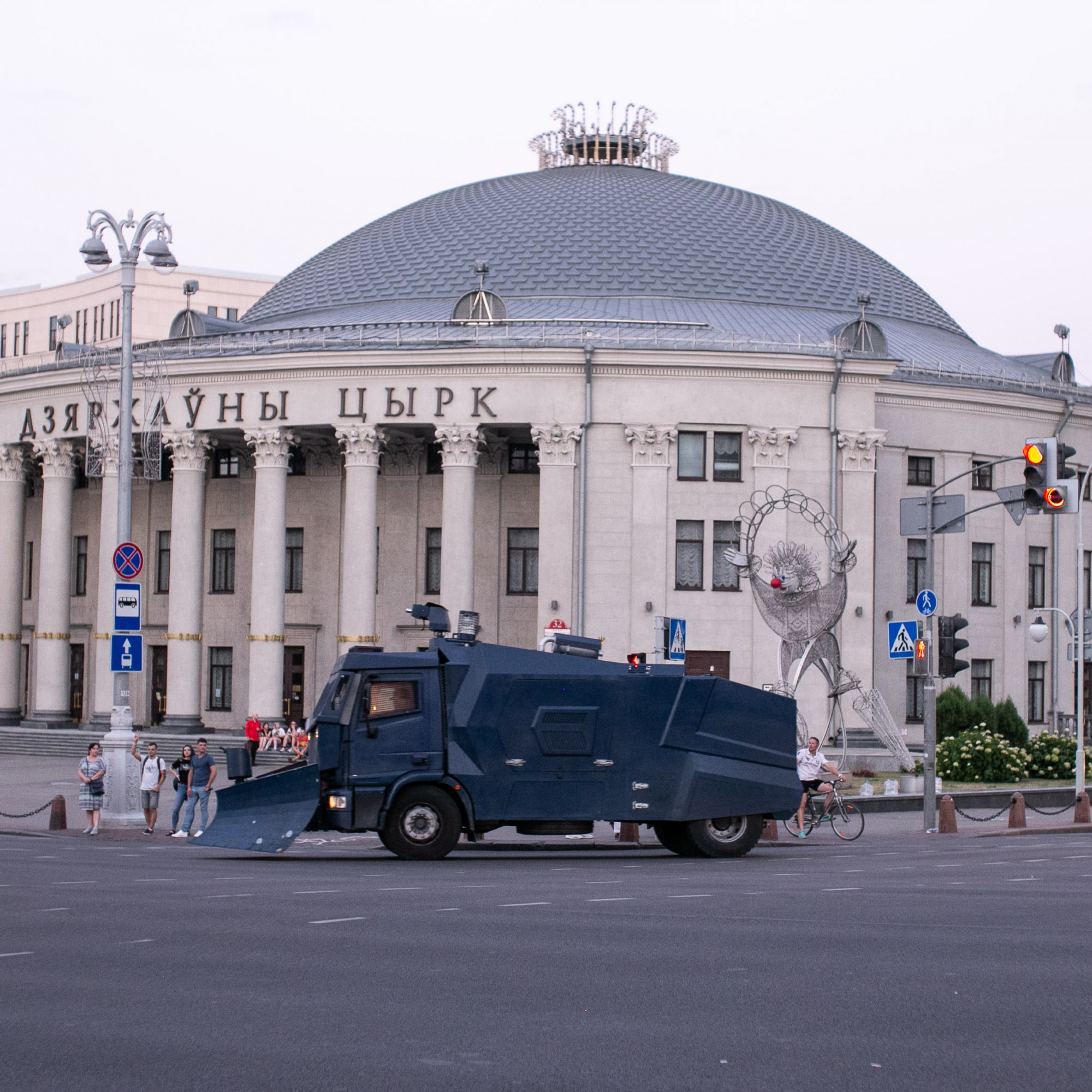 © Carolina Poliakowa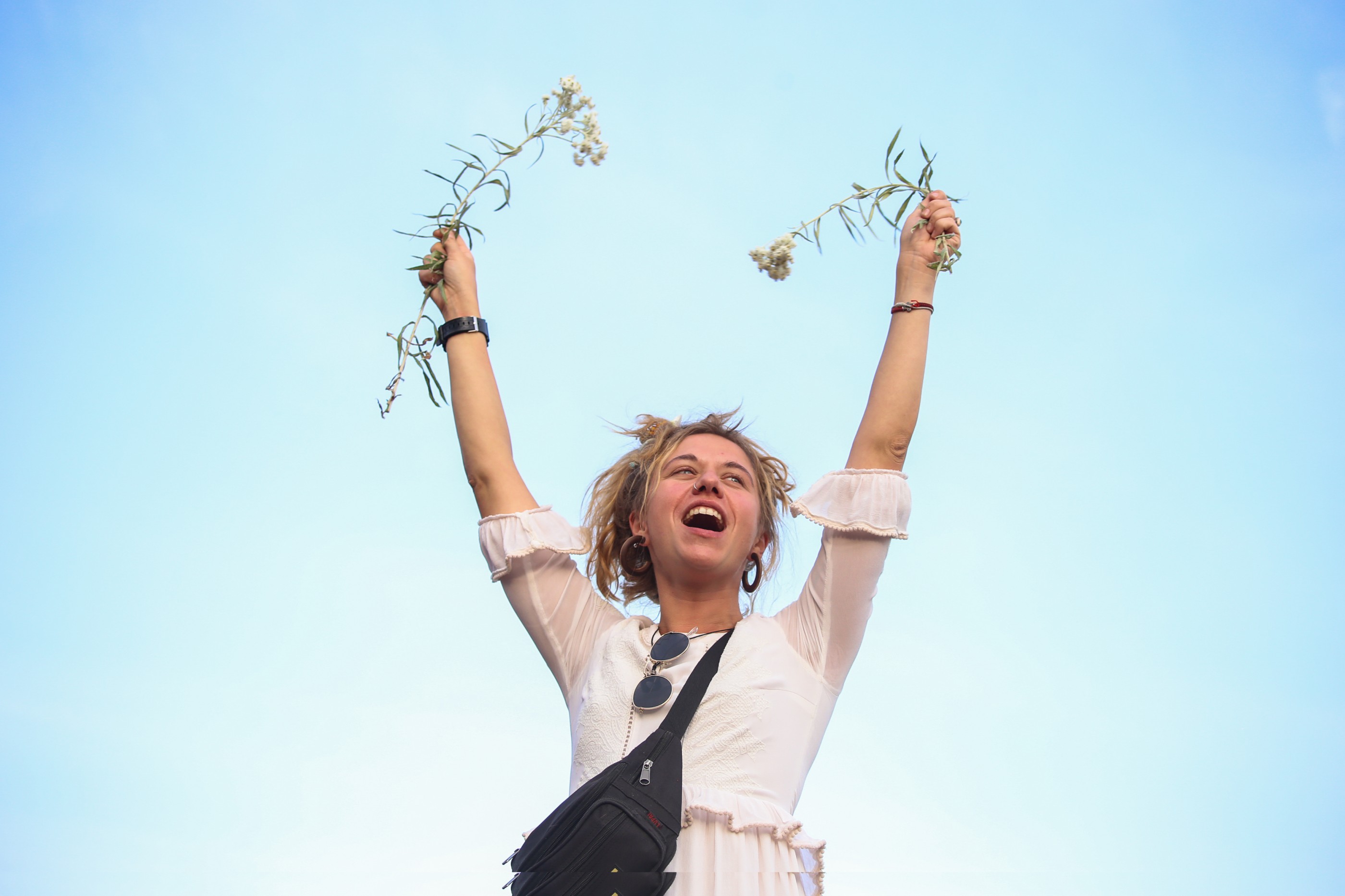 © Carolina Poliakowa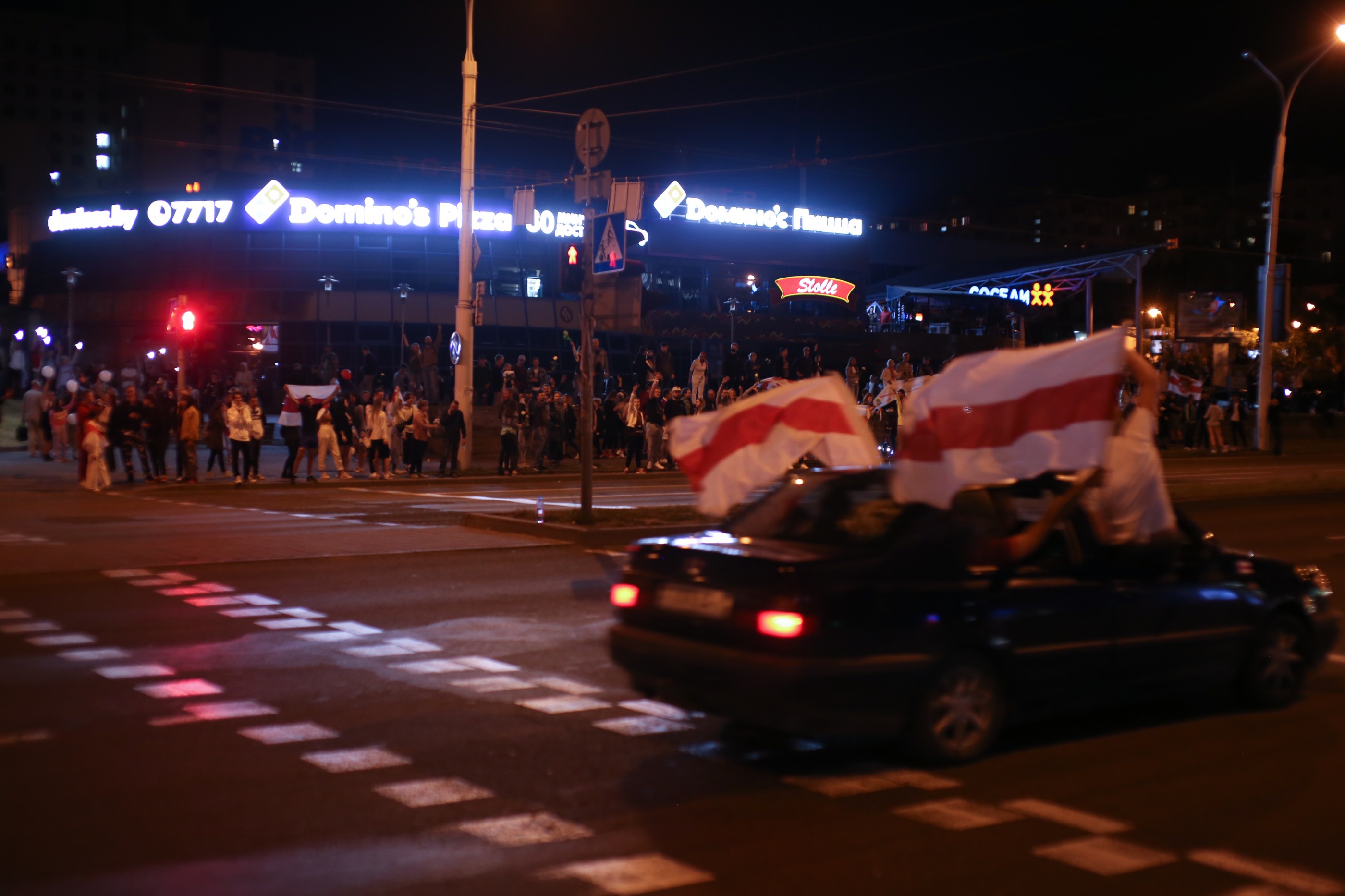 © Carolina Poliakowa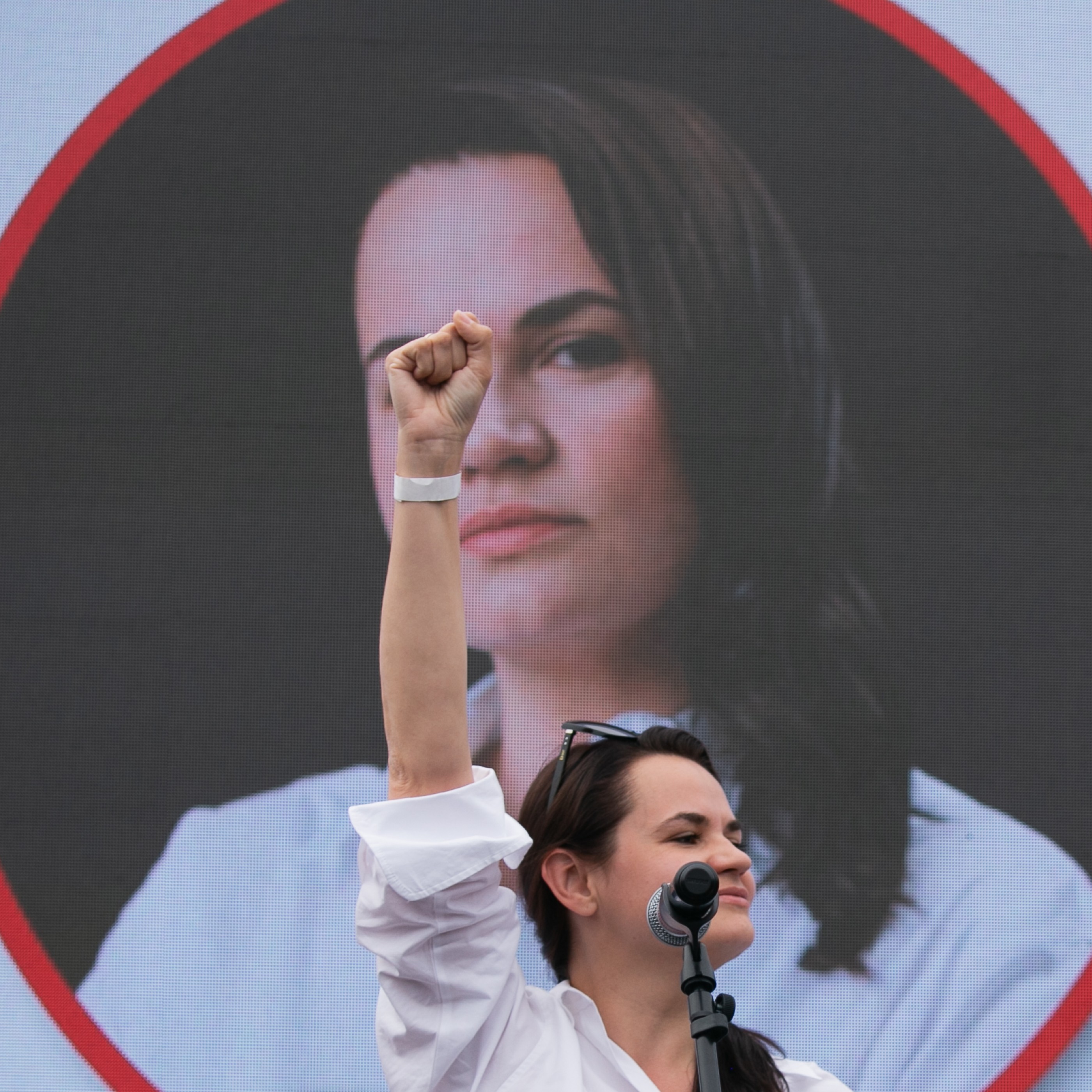 © Carolina Poliakowa