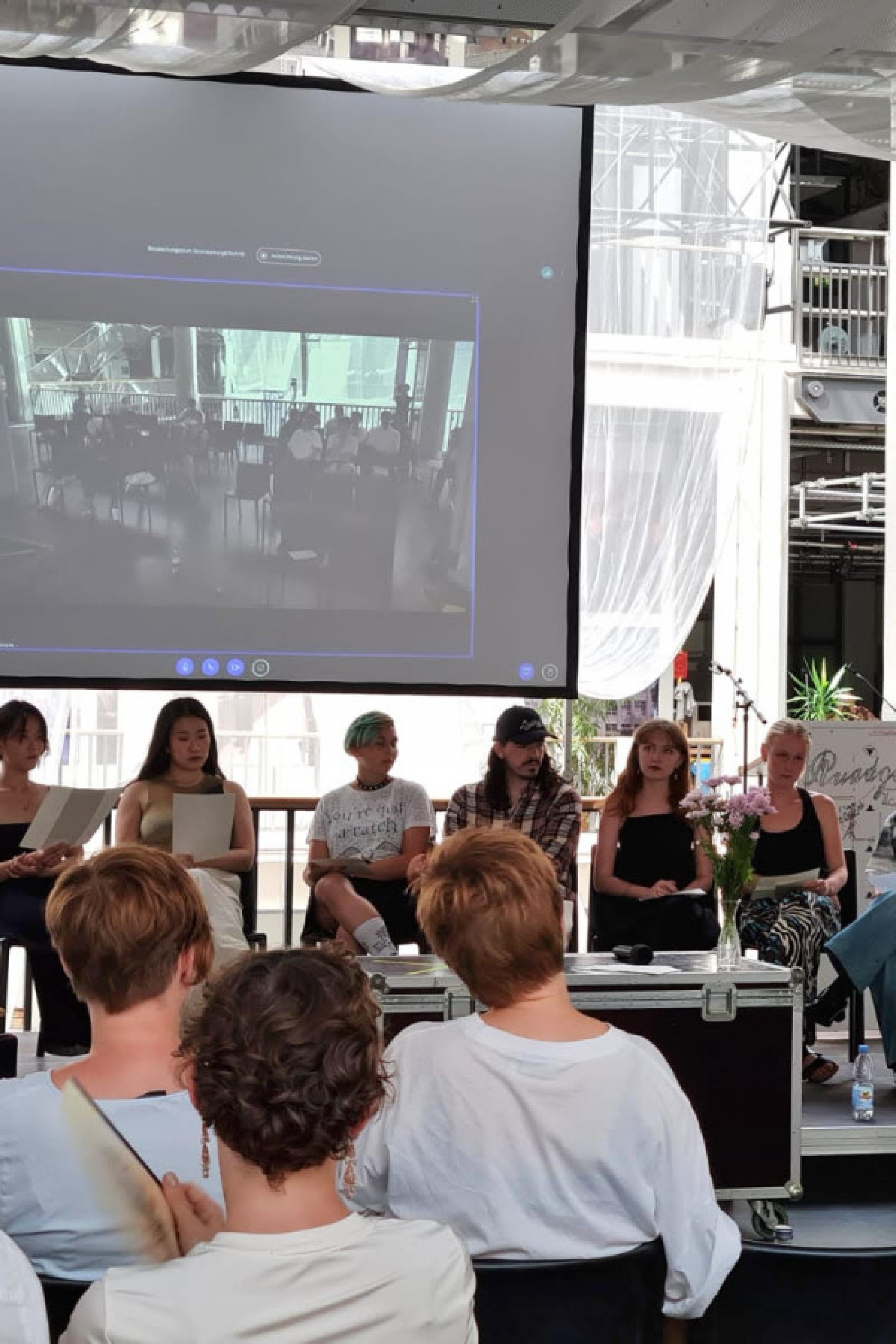 Student - Teachers
This text evolved within the seminar A Pedagogy of Machines: Making Tools for Education as a collaboration between students and Paolo Caffoni. The letters were presented at the Rundgang of HfG Karlsruhe in Summer 2022.
Laura Vogelhöfer is currently pursuing a MA in Media Philosophy and Art Research at HfG Karlsruhe, including an exchange year at the Academy of Fine Arts Vienna. Before this, she obtained a BA in Media and Cultural Studies, as well as in Political Science, at university in Freiburg.

Rui Zhang is currently studying Media Arts at HfG Karlsruhe. Before that, she studied at Central Academy of Fine Arts, or CAFA (Beijing, China) and received a bachelor's degree in Communication Design.

Wei Wang is currently pursuing Exhibition design and Scenography at HfG Karlsruhe. Before this, she studied in China Central Academy of Fine Art a BA in Environmental Design.

Ilayda Kohl is currently pursuing a MA in Media Philosophy and Art Research at HfG. She was recently nominated for the Förderpreis of the Fördergesellchaft from HfG. 

Siting Chen is a Mixed-media and interdisciplinary researcher, currently studying Media Art at HfG Karlsruhe. In her work, she utilizes a variety of media, including sound, CGI, video games, and installation.

Livia Emma Lazzarini is a curator, designer, and art researcher. Currently, she is part of the editorial team of the journal UMBAU in Karlsruhe, where she is pursuing an MA in Art Research at HfG-ZKM.

Jingruo Wang studies Exhibition, and plans to pursue art management & curation. She has an extensive background in art education in China, and has a BA in Fashion Management from her studies in Berlin. 

Nicolas Poirot is a french graphic designer currently studying in the Communication Design department at the HfG Karlsruhe. With two bachelor's degrees in design theory and visual communication, his practice centers around pop culture, gender studies, and speculation.

Huiyeon Yun is a graphic designer and visual crafter currently in the process of receiving an MA in Communication Design at HfG Karlsruhe. She has a BA in Communication Design from Konkuk University (Seoul, South Korea).
Posts by Student - Teachers